Lace gets a whole new look!
Lace has traditionally been knit in finer weight yarns to create airy, delicate designs. But when knit in bulky yarns, lace becomes bold, graphic, and dramatic. Working with thicker yarns also makes the projects move along more quickly and the lace repeats shorter, so it's easy to learn new stitches and techniques.
For those new to bulky yarns, Barbara Benson shows you how these yarns work best in lace designs and provides tips and tricks for reading and executing lace patterns.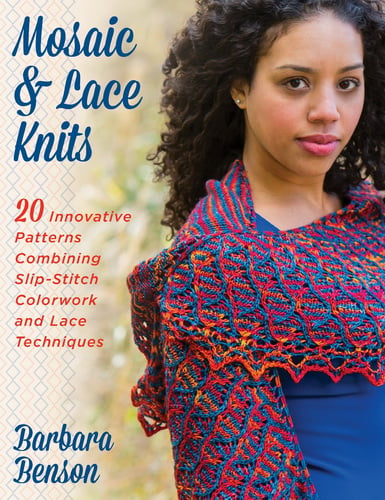 Combine mosaic and lace in your knitting for easy colorwork with impeccable style.
The impact of two-color knitting made while knitting with only one color yarn per row--yes, please! Add in a dash of lace to keep the fabric flexible, and what you end up with are knockout colorful knits with beautiful and comfortable drape.
To make the patterns accessible to any knitter, she has added a helpful instructional section that covers the basics of knitting slip stitches, how to read lace and mosaic charts, how to work mosaic in the round, and tips and tricks to help you avoid potential pitfalls.